Three New Books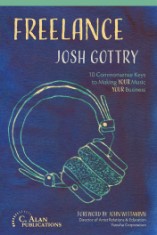 A career in music can be exciting, flexible, and profitable, but it requires navigating both musical and business complexities in a consistently evolving industry. Allowing you to build on what certainly are years of artistic study, FREELANCE highlights ten timeless keys required to successfully turn your music into your business.
Available NOW from C. Alan Publications.
Also available on Kindle from Amazon.
---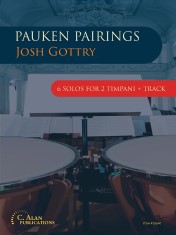 Pauken Pairings was written in recognition of the need for engaging works for timpani that are accessible for a wide range of student percussionists. Each of the pieces included is playable on two timpani (29" and 26" drums), incorporates notable excerpts from significant orchestral works by two composers, and includes an optional groove-based electronic accompaniment (arranged & programmed by Bryce Craig) that may be performed using the downloadable pre-recorded track or played by a second percussionist on drum set, snare drum, cajón, djembe, pandeiro, etc.
Available NOW from C. Alan Publications.
---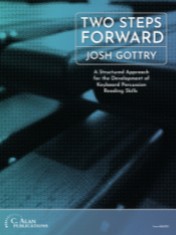 Created with a logical and systematic approach, carefully designed to aid beginning keyboard percussionists in developing strong reading skills. Included in Two Steps Forward are over thirty progressive etudes, numerous short sight-reading phrases, scale drills, rhythm checks, and structured composition and improvisation opportunities, along with six recital-ready solos.
This new book is the result of nearly 10 years of edits and revisions based on its use with beginning keyboard percussion students. Every effort has been made to ensure that this method approaches the development of keyboard percussion skills in a thoughtful, accessible, and effective manner.
Available NOW from C. Alan Publications.
Left Edge Percussion Composition Contest
"Quintic" for percussion quintet, composed by Josh Gottry, was selected as the winning composition for the 2020 Left Edge Percussion Composition Contest. Over 80 entries were submitted from across the U.S., Brazil, Canada, Chile, China, Egypt, France, Georgia, Germany, Iceland, Indonesia, Italy, Mexico, Singapore, Spain, Sweden, the U.K., and Venezuela.
"Quintic" was premiered virtually by Left Edge Percussion at Southern Oregon University in May 2020, received a live premiere by Left Edge Percussion in October 2020, and was published by C. Alan Publications in November 2020.
Check out video from the premiere performance of Quintic, read more information about it, and order your copy of the piece.
New Works for Vibraphone
In 2021, the percussion community celebrated the 100th anniversary of the vibraphone. During that year and leading up to it, it was my pleasure to create and release several new works featuring the vibraphone.
Recently Commissioned
LIGHT ON THE ICE
for clarinet and marimba duo
The Unfiltered Duo
Amy Humberd and Paul Hayes
---
THERE, THEIR, THEY'RE
for percussion quartet with limited instrumentation
Jeff Calissi (Eastern Connecticut State University) with Andrew Kolar (Sacred Heart University), Frank Kumor (Kutztown University), Nicholaus Meyers (East Central University), Mariusz Mocarski (Fryderyk Chopin Music University), and Glenn Webb (Dixie State University).
---
PRIME NUMBERS
for three players on each side of a 5.0-octave marimba
Matt Coleman (Brigham Young University), Stephen Crawford (University of Mary Hardin-Baylor), Wes Hawkins (Phoenix College), Matt Holm (Kent State University), Doug Nottingham (Glendale Community College), Tracy Wiggins (University of Northern Alabama)
---
ROPES COURSE
an exploration of the altissimo register for solo B-flat clarinet
Olivia Meadows (Arizona State University)
Deck Park Tunnel
Light on the Ice
"With a comfortable groove" is the indication given to the performers at the beginning of the piece, and it is this groove that makes the piece so enjoyable for the listener. [It] would be a tuneful and upbeat addition to any recital program.
Robyn Jones
Two Steps Forward
"I highly recommend Two Steps Forward. It is the solution for any beginning mallet-percussion educators who have struggled to get their students reading rather than memorizing."
Joe Millea
forFOUR
Bubblegum
Bubblegum bills itself as an homage to the Motown hits of the early 1960s, and it's hard not to hear the connection after even just a couple of bars have passed … [it] is exactly what I would want from a middle school piece: fun, educational, flexible, and accessible.
Brian Graiser
Woodwork
Open Spaces
"Open Spaces" is a pleasingly tonal intermediate work for solo four-mallet marimba … an effective short-term project for an advanced high school or undergraduate performer. Bravo to Mr. Gottry for another excellent and educational marimba solo.
Joseph Van Hassel