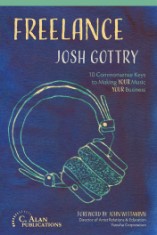 Freelance: 10 Commonsense Keys to Making YOUR Music YOUR Business
Publisher: C. Alan Publications (2021)

 or access more information from C. Alan Publications

on Kindle from Amazon
A career in music can be exciting, flexible, and profitable, but it requires navigating both musical and business complexities in a consistently evolving industry. Allowing you to build on what certainly are years of artistic study, FREELANCE highlights ten timeless keys required to successfully turn your music into your business.
---
An awesome book; I love it on all levels! Gottry makes it very personal by weaving his story in and out. The information included is great and well organized.
Andrew Hitz, Music Entrepreneurship Coach, Clinician, Soloist, Entrepreneur
If you want to make a living as a freelance musician, there is no well-paved path to follow. You must assemble your own unique career. Josh Gottry provides a valuable template for doing just that, based on his own and other musicians' success stories.
Rick Mattingly, Musician, Teacher, Executive Editor of Percussive Notes, Author and Editor of Drum Instruction Methods for Hal Leonard Corp.
Freelance is a must-read for any gigging musician, particularly those who are early in their career or college music majors. Even professionals with full-time employment in music include elements of freelancing in their livelihood and Freelance makes clear the approaches and attitude necessary for a rewarding and sustainable career.
Rich Holly, University Administrator, Author of Majoring in Music: All the Stuff You Need to Know
Gottry has masterfully distilled the experience of a professional musician into this extremely practical, thoughtful, and engaging book. It should be required reading for anyone pursuing a career in music, as well as anyone guiding others on their path.
Jeff Anderle, Chair of Woodwinds and Professor of Professional Development, San Francisco Conservatory of Music
Regardless of your instrument or current concept of succeeding as a musician, you simply MUST read this book.
John Wittmann, Senior Director, Artist Relations & Education, Yamaha Corporation